CoNet annual bicycle ride is one of the events that many colleagues and our partners are looking forward to. We are always excited to plan the event and look forward to meeting everyone for a joint event.
Every year there are more than 50 participants taking part in CoNet's cycling event. However, in total, we are more. We would not be able to create such a fantastic experience without our amazing support team trying to be next to all participants every step of the way. So this year, we will look into their day and how they experienced it all.
Planning is the Key
It all started way before the actual day with some essential organizational processes. The event is 100km long every year, yet the route is always different to make it interesting. The track is always carefully tested by John and Johan. In case of an accident, a safety plan is in place, the route is marked, risks are analyzed, and a lunch spot is selected. Snacks and drinks are well stocked as well as spare bicycle parts and tires. The planning is in place, so we are ready for the day.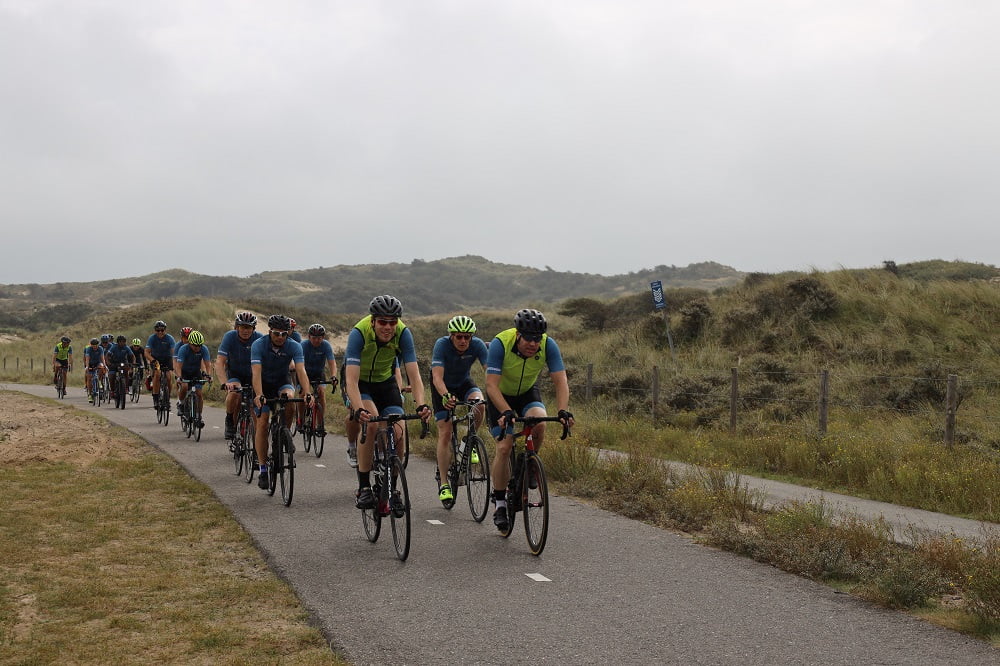 Support Team
This year Jeroen, Peter, Wouter, and Noah were part of the support team and were following teams in their vehicles. Jeroen was driving in a car, and his main task was to take pictures. He was also ready to assist cyclists if another car was full or further away. Wouter and Peter were in another support car and were ready to help and support when needed. Finally, Noah was following a team on a motorbike and kept oversight of all the participants.
As per usual, the event started with preparing all the bikes, providing forms for the participants, and welcoming everyone to our Zaandam office. Then, of course, everyone enjoyed snacks and drinks and a presentation from John. It was fantastic to see everyone happy and excited about the journey.
It was time to start! In general, the weather was great for a bike ride. However, it was raining a bit during the morning, which led to some flat tires early on. Yet, the team was there to help ensure that the participant could be back on track as soon as possible.
During the ride, communication plays an important role. For that reason, there were five walky talky's distributed among the team members to keep each other informed. Also, Jereon and Peter got a GPS to follow the cyclists and support them if needed.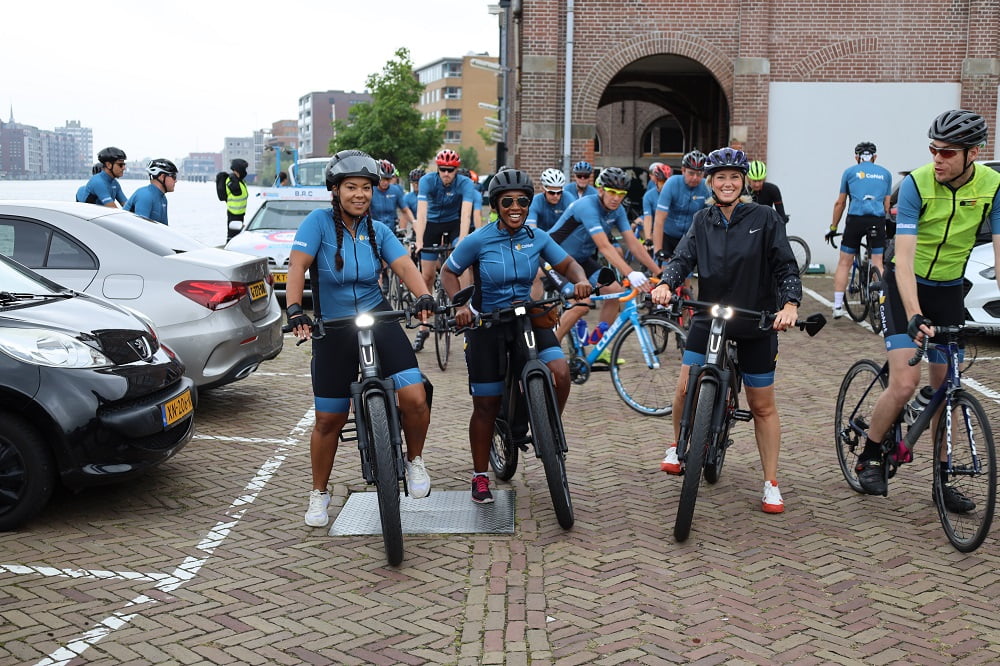 Bike Ride's Biggest Challange
However, Jeroen, Noah, Wouter, and Peter agree that the main challenge was following teams and knowing where they were. Even though they had a GPS tracking system, it sometimes got stuck or was unclear why the group stopped.
"The biggest challenge for us during the event was keeping up or knowing how to reach specific locations on time. We had to consider how fast cyclists were going and juggle between groups one and two. Maybe we need to meet group one to take pictures or support? Sometimes we would ride to a specific point to realize that we have just missed them. Even though we had GPS tracking, it sometimes didn't update on time, or the connection was poor. It is not always easy because they drive fast, and overtaking them takes a while. So you also need to speed up with the car," says Jeroen.
Peter agreed by saying: "One of the challenges is to move from point A to B and not be too late and actually catch up with the riders. The thing is, we had to consider their pace. Sometimes we couldn't find them because the GPS didn't update frequently or for a while, the GPS location tracker didn't move, and we didn't know why – is it because of the update or because someone had a flat tire. The whole time we actively needed to be looking for ways how to support them."
As per Noah, sometimes it was because of sudden events that split the group: "It was challenging to keep an eye on the group because there were moments where they needed to split up because of the road, and finding the group again was challenging at times."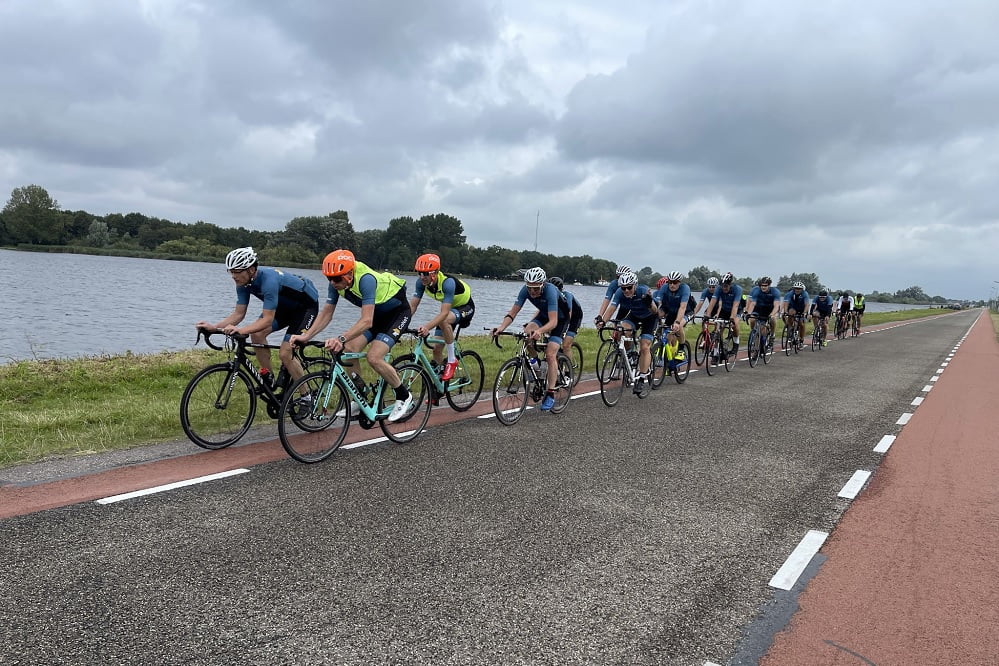 Lunch Break with a View
There was a pitstop break with apple pastries and other delicious foods and drinks halfway through the ride. The pitstop was located near the lake. It was a beautiful lunch break and an opportunity for everyone to chat, talk about the tour and other topics. After the break, everyone was on the road again to soon reach the finish line.
One of the highlights during the ride, told by Peter, was that the team was cheered on by our "cheerleader." The cheerleader was standing on an energy box in Hillegom and waving CoNet's flag!  It cheered up all the bicyclists and brought the spirits up.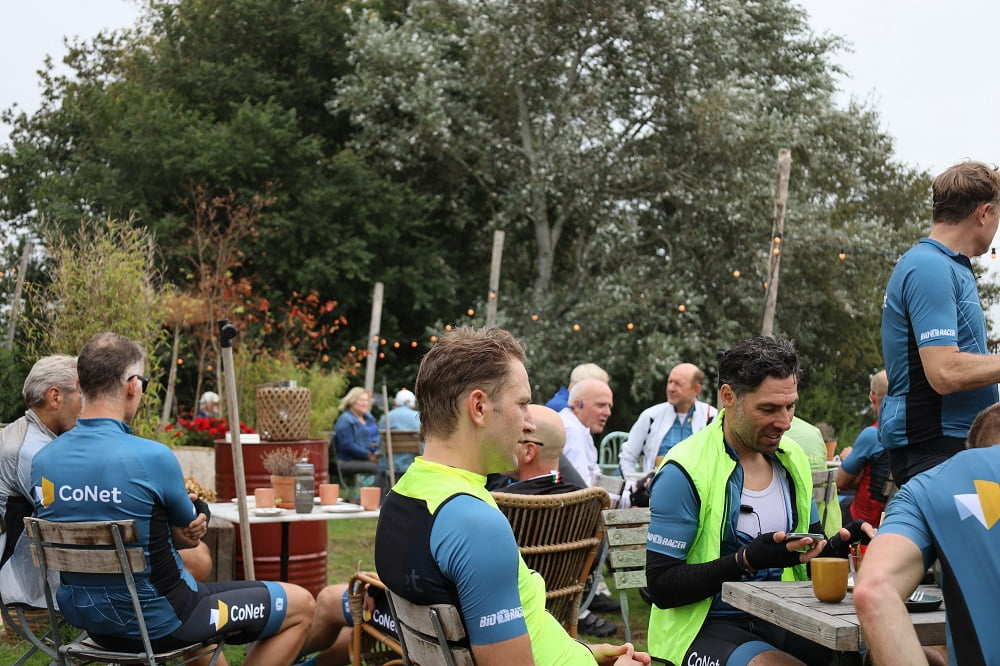 Positive Energy
It was amazing to see all the positive energy from all the participants, especially after the ride. Zaandam office was buzzing from all the emotions and glass cheering! It was fulfilling to see how our hard work paid off, bringing so much happiness to so many.
Thank you, CoNet cyclist team of 2021! We hope to see you again next year!